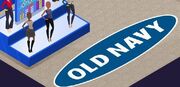 Old Navy Store was an actual store available in It Girl in November-December 2010. It was situated in Union Square, New York.
The store contains low hotness items. Can be purchased from other players in It or Miss. 
There was also a party which one could attend which was Old Navy themed specifically for the promotion. Original It Girl Forum thread associated with Old Navy
here
.
The Store Gallery:Edit
The Reward Items:Edit