It or Miss is a newer addition to the game. It did not exist in the beginning but was added later. You can create and submit an outfit for public vote and collect rewards for doing so.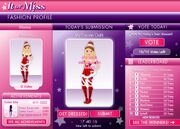 It or Miss allows you not only to submit an outfit, but it also serves another important function: by voting 7 days in a row on other people's creations, you will get 3 diamonds weekly without having to pay for them. This is excellent function if you do not wish to purchase anything for real money.
Here is a general overview of It or Miss:
You can only submit 1 outfit daily;
You are only allowed to vote on 10 outfits daily;
If you miss a day of voting, you will have to start over.  A day counts as 24 hours from the last time you submitted your previous vote.  For example, if you vote at 12 PM on a Monday, then vote at 5 PM on Tuesday, your votes on Tuesday will start all over as Day 1, and not in line with your other weekly votes.  Voting consistenly everyday is the key;
Each day there is a new theme for outfit creation: e.g. Punk Rock Princess, Evening Star, etc.;
While voting, if you feel that both the girls' outfits does not fit the theme, you can skip the vote. The vote is counted as used in this case;
When you view top ten winners in daily and all time categories, you can buy items which are NOT available in any shop and you do not even need energy to do that! E.g. Elite Members Items, Halloween Party Items, Miss LaShelle's Collections, etc. Most are for cash, others for FB credits/diamonds;
You can purchase Boyfriend Rewards outfits when they are available without having to date boyfriends.
Each outfit that you submit must correspond to that day's theme. For a complete list of themes go here.
Community content is available under
CC-BY-SA
unless otherwise noted.