From the very beginning of It Girl, you will have a quest: Get a boyfriend (as you can see in the picture in the right). Having a boyfriend has his advantages and disadvantages. 
The Advantages are:
You will get 5 special garments;
Every boyfriend has a bonus (XP bonus, Confidence bonus, Energy bonus, Fame bonus, Cash bonus) which can help you;
After dating five boyfriends from a category (e.g. Money Minded, Six Packs, Criminals) you will receive an outfit.
And The Disadvantages:
No matter the number of clique you have, the boyfriends will want more;
Many boyfriends have the same gifts.
How to get a boyfriend:
Edit

At first, to be able to get a boyfriend, you should have 
at least
level 
3
. Then, you have to find someone you like (you can find them on the streets and at parties) and click on "FLIRT". It will take you 1 Energy. But he can also refuse you if you have a low reputation and this will take you 10 Confidence. You will find him between the "My life" and "
It or Miss
" sections. And that's it! Now you have a boyfriend!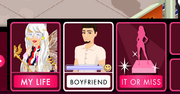 After dating the first boyfriend, you will be able to acces the Dating Diary . From there, you can see each boyfriend and the category they belong to. If you want a specific one to date him, you have to send a number of requests to your friends.
Unfortunately, new boyfriends often demand that you add more people to your clique if you wish to date them. Usually, such requests amount to 1-2 clique members per one time. While it is beneficial to have as many clique members as possible for opening quests, receiving energy/confidence bonuses, etc., this request gets tedious and unreasonable to fulfil after a while. The reason for this is that there is no upper limit in terms of clique members for you to reach in order for the men to stop asking that request of you. 
If you would like to skip having to add more clique members, check out the following guide below.
How To Get A Boyfriend Without Having To Add More Clique Members
Community content is available under
CC-BY-SA
unless otherwise noted.